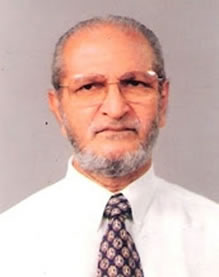 From a super cop to an Islamic scholar: Life story of Abdul Rahiman Abideen
By Latheef Farook
---
Ninety one year old Abdul Rahiman Abideen's story is a unique and inspiring one. He joined the Police Service in 1941 and ended up as an Islamic scholar. He belongs to an era when the cops too were keen on seeking knowledge.
It all started during his career as OIC of the Muthur Police station during 1961 to 1966. He found sufficient time to read and do research on Islam while setting up an association to help the poor Muslim s there.
As years went by, there were enormous amount of notes accumulated. He collated and indexed them under various subjects systematically from A – Z. This alone took couple of years, typing and retyping several times.
Later this turned out to be a Book with the title IN SEARCH OF THE MESSAGE. Comprising 2430 A4 size pages. These books are now in CDs, and he has made out just one copy of this book -photocopied and bound in book form in five volumes each volume consisting about 500 pages. He plans to publish and distribute among Universities, Libraries, Colleges and Organizations.
In t 2013, he managed to print 10 sets of such books; each book consists of 5 volumes, making a total of 50 copies, for free distribution among Universities, Libraries, Colleges and Organizations. What is novel about this Book is that followed by the Quranic injunctions and Yusuf Ali's Commentaries, the supportive relevant Hadhis (on that subject) are also reflected therein.
In addition he has also opened a website: "www.abideendhawwa.com " and installed this book: In search of the Message (ISOTM) with facilities to open all pages with a click; in addition to other subjects on Islam which are further explained and elucidated under 5 subheads.
Main features of this publication is that the (English translated) verses in the Holy Quran are indexed in a manner that one can easily trace the side verses in separate headings followed by the respective commentaries as laid out in the English Translation of the Holy Quran . The side verses he has selected are mostly Quranic injunctions arranged in alphabetical order from A – Z - which we have to refer to at various times in our day to day life and affairs. This publication therefore would also serve as a Quick Ready Reference Book for the seekers of the divine knowledge. Further, the relevant ahadith are mentioned in appropriate places and in some places the references of the ahadith are set out.
It is also significant that one can easily refer to six ahadith books through this publication. In addition to this enormous work, he has also placed appendix 1-10 on separate subjects i.e. Worship, Friday/Jumu'ah, The Seven Destructive Sins, Adhan, Stories from Al-Quran, True Worship, Janaza, Hijab or Niqab, General Knowledge extracted from the ARAB NEWS (Published in Saudi Arabia) and Punishments in Al-Quran.
These are some of the controversial issues in this country at the moment, and as they are in dispute, Abideen has taken great pain to send out circulars and pamphlets from time to time explaining the correct position according to the Quran and Hadith.
The importance of this book lies in the fact that in one compact volume a wealth of details has been packed and presented in chronological order throwing a flood light on many facets of Islam to public gaze – at least to the English - reading public. As a ready reference book on Islam, this volume is a treasure chest and no one can afford to miss it.
This was no ordinary task as the compilation over a period of 25 years of this book IN SEARCH OF THE MESSAGE in its present form entails great strain and only one with a sense of mission can embark on it and accomplish the task. The enormous amount of work that has gone into this book speaks volumes about Abideen's determination, devotion and dedication which have brought about this interesting narrative, informative, instructive and authoritative book which would become handy among all Muslims and non-Muslims as well.
---